Since the NSCJF was made aware that local soup kitchen, Hope Cottage, was requiring proof of vaccination beginning November 1, 2021, we initiated an advocacy campaign to change this. The Provincial proof of vaccination policy exempted organizations that provided services to vulnerable populations, unless that service was providing meals. This those cases, the venue was to be treated as a restaurant and proof of vaccination was required. Hope Cottage placed a notice one their door stating they would be following this requirement when they resume dine-in service on November 1. They advised that sandwiches would be provided to those who could not come inside.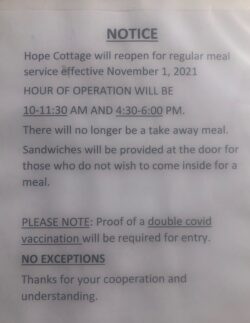 The NSCJF petitioned Dr Strang and Public Health to have this policy changed to ensure vulnerable populations have the same access to food and a safe, warm environment regardless of vaccination status. This advocacy was successful as confirmed by Saltwire. Public health amended their policy to ensure soup kitchens could offer dine in service to all. To the disappointment of the NSCJF, Hope Cottage has said if they are required to offer dine-in service to unvaccinated guests, they will have to close.

"If we have to let everyone in, we will have to close because I won't have anyone to serve our clients," said Power. "My volunteers and staff will not go along with that."

The NSCJF has made it clear to Hope Cottage that we will replace any lost volunteers and we hope they use their position within the community to not supecede the requirements from Public Health and ensure everyone they exist to serve is treated equally.